Margy Verba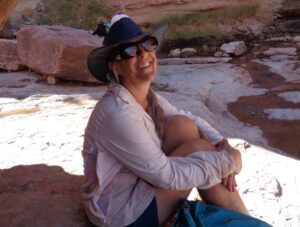 I am fascinated by movement and the body's capacity to heal. Always a mover, I grew up studying dance, playing sports, and backpacking as much as possible. While in college, in the mid-1970s, I started teaching dance and fitness classes (remember leg warmers and shiny leotards?). In the early 1990s, I discovered Pilates, and went on to complete internationally acclaimed Madeline Black's teacher training. Madeline first introduced me to therapeutically oriented Pilates, and I have never looked back. Continuing my education in a therapeutic orientation, I have a diverse range of training with world renowned instructors/researchers (see education below).
In 2005 I was hired by the U.S. Men's and Women's U.S. Ski Teams to develop a custom Pilates program. Today my clients are primarily people in chronic pain and athletes who are stymied by injuries. I offer both private appointments, as well as a series of self-care courses for pain alleviation and prevention. The focus of my practice is knowledge and awareness, achieved through biomechanics education and movement exploration. This focus empowers my clients to practice self-care and be informed consumers of healthcare. In short, I enable my clients to take ownership of and actively participate in, their own healing process.
The primary influence on my practice is Anatomy in Motion (read more about AiM here). I have studied extensively with AiM founder Gary Ward, author of "What the Foot", and as of 2021 I am an official AiM Instructor. AiM is based on the premise that gait (AKA walking) uses every joint in the body in all three dimensions. By analyzing gait and its component motions, we can address non-optimal movement at both a global (full body) and focal (individual joints) level. I have also been focusing my studies on pelvic floor and breathing dysfunctions (hint: they are not unrelated!). My clients get individualized corrective exercise programs, which provide lasting results, rather than simply providing symptomatic relief.
Margy was a terrific Pilates instructor with my athletes. She was able to teach all levels of Pilates from the basics to very advanced exercises that challenged even my most experienced athletes. As skiers, core stability is very important and Margy was able to give us some great exercises to use in our conditioning program. The background and knowledge she provided was very beneficial in developing a foundation. From this foundation we have utilized the exercises Margy taught us to improve strength and stability in our athletes.
Margy demonstrates a very solid and knowledgeable background as an experienced Pilates instructor. She is well qualified to recognize movement dysfunction and modify programs for each individual to maximize their gains and build a stronger foundation. I have learned a lot to enhance my own fitness, core stability, and reinforce correct movement patterns. This has also broadened my "bag of tricks" for patients, utilizing the principles of Pilates, through the excellent instruction I have received from her.
Margy is an excellent problem-solver with a vast working knowledge of the body, movement, and anatomy. She knows how to look at dysfunction and pain from all angles and is able to create exercise programs that will most benefit her students. She is a life-long learner who constantly hungers for new information and has a great understanding of the evidence and research. She is exactly the type of instructor you need.
Margy Verba brings an intellect and wealth of knowledge to her work. Her teaching and assessment is on an advanced level, not commonly found, giving creed to her Gold Certified status with the Pilates Method Alliance. I was honored to have the opportunity to study under Margy. Her teacher training consisted of more advanced and pertinent information than any other certification I have taken, and included a strong critical thinking component necessary to be a thoughtful and effective teacher. I refer clients to Margy on a regular basis. Margy's strong assessment of posture, movement and alignment is a testimony to her advanced skills in corrective exercise and proper technique. She possesses an innate sense of understanding of the body and how we hold pain or compensate for imbalances. She effectively brings her students/clients into healthy movement through her vast knowledge and depth of understanding. Margy's ability to teach the most basic of exercises and to also challenge the most advanced of students demonstrates her exceptional qualifications as a practitioner. Her analysis of movement and corrective programs set her apart. Margy is an expert in her field and the Eastern Sierra is fortunate to have a practitioner of her caliber in our community.
Education:
1996: Pilates Teacher Training w/ Carol Appel
1999: Pilates Teach Training w/ Madeline Black (repeated in 2001)
2002: Trager Bodywork w/ Deanne Juhan
2004: Pelvis and Lumbar Spine w/ Jean-Claude West
2004: Shoulder Girdle: Structure & Function w/ Jean-Claude West
2005: Lumbopelvic & Lower Extremity w/ Jean-Claude West
2006: Advanced Pelvis & Lumbar Spine w/ Jean-Claude West
2006: Upper Quarter w/ Jean-Claude West
2007: Essential Role of the Thorax w/ Linda Joy-Lee
2008: The Pelvis to the Arms w/ Jean-Claude West
2008: Shoulder Intensive w/ Lise Stolze
2008: Pathokinesiology of the Lower Quadrant w/ Lise Stolze
2009: T/L Juncture to the First Ray w/ Jean-Claude West
2009: Shoulder Therapy w/ Deanne Juhan
2010: TheraPilates for Osteoporosis w/ Sherri Betz
2010: Adaptive Responses – Who Is the Driver w/ Jean-Claude West
2012: Back Care w/ Brent Anderson
2013: Fascial Fitness w/ Robert Schleip
2013: NeuroKinetic Therapy Level 1 w/ David Weinstock
2014: NeuroKinetic Therapy Level 2 w/ David Weinstock
2014: Restorative Breathing w/ Lois Laynee
2014: Anatomy in Motion – Finding Centre w/ Gary Ward
2014: Massage Therapy Institute 250 Hour Program
2014: Active Release Technique – Lower Extremity w/ P. Michael Leahy
2014: Primal Movement Chains w/ Perry Nicholson
2014: Piston Science Module 1 w/ Julie Wiebe
2015: The Pelvic Floor Piston: Foundation for Fitness w/ Julie Wiebe
2015: Anatomy in Motion – Finding Centre w/ Gary Ward
2015: How to See the Spine – Finding Asymmetry and Providing Correction w/ Jean-Claude West
2015: NeuroKinetic Therapy Level 3 w/ David Weinstock
2015: Female Athlete — Ready for Impact w/ Julie Wiebe
2015: Yoga, Breath and the Pelvic Floor w/ Leslie Howard
2015: Myth and Science of Breath w/ Brent Anderson
2015: Understand Lumbo-Pelvic Pain w/ Brent Anderson
2015: Roll Model w/ Jill Miller
2016: Fascial Fitness Trainer Course w/ Robert Schleip
2016: Piston Science Modules 2-7 w/ Julie Wiebe
2016: Anatomy in Motion – Finding Centre w/ Gary Ward
2016: Immaculate Dissection w/ Kathy Dooley
2017: Anatomy in Motion – Finding Centre w/ Gary Ward
2017: From the Glottis to the Pelvic Floor: Making Clinical Connections w/ Julie Wiebe and Susan Clinton
2018: Anatomy in Motion – Finding Centre w/ Gary Ward
2018: Piston Science Part Two: Bridging the Gap Between Rehab and Fitness w/ Julie Wiebe
2018: Exploring Dynamic Equilibrium w/ Jean-Claude West and Irene Dowd
2019: Cervical Spine and Diaphragm to the Pelvic Floor w/ Susan C. Clinton
2019: Breath Mechanics for Pelvic Health and Fitness w/ Julie Wiebe
2021: Closed Chain Biomechanics of the Lower Limb w/ Gary Ward
Additionally, I have done private mentoring under Jean-Claude West, Dr. Kathy Dooley, Chris Sritharan, Gary Ward and Julie Wiebe.