Anatomy in Motion Study Group Retreat in the
Beautiful Hudson Valley, New York
Sept. 9-11, 2022

Are you serious about mastery of the AiM method?
Do you love to be outdoors?
Mastery with any system requires hours and hours of practical application with real people and in your own body. And now that we are able to study together in real life, in person…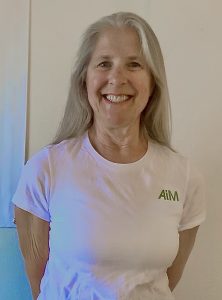 Join AiM instructors Margy Verba and Monika Volkmar for a 2-day AiM study group retreat. Level-up your confidence and skill with the Flow Motion Model, while enjoying the splendid natural romping grounds of the Hudson River Valley in Ossining, New York.
We've designed this 2-day retreat to create an environment which you will be held as a successful AiM student:
Keeps it simple, even when it appears complex
Curious, not here for answers but here to embark on a journey of self-discovery
Fearless, free to be wrong, free to explore
Free from expectation
Completely ok with not knowing
Always trusts the process
Our intention is to help you get better results with your clients using AiM, and to hold a space in which you feel safe to take risks, experiment with your clinical reasoning process, and possibly (probably, hopefully) fail. The best learning comes from fearless failing.
You can expect:
7 hours/day of "class time"
Practical assessment and application of the FMM and phase exercises
Gait analysis case studies
Guided movement exploration and self-check-ins to improve your awareness of your own body's challenges and needs
Time for your personal questions
Our "clinical pearls" based on our real life experience
Community: Hang out, study, and be supported by fellow AiM students in a room again together, for the first time in YEARS
Time to enjoy walking and moving outdoors, and sitting around a campfire in the evening to unwind after a day of delightful anatomical studies
We hope to support you learning to trust yourself- your observational skills and your intuition, so you can hone your own unique way of navigating the FMM efficiently and effectively using the tools and skill set you already have.
SPACE IS LIMITED — RESERVE YOUR SPOT NOW!
REGISTRATION CLOSES AUGUST 19th!
*Registration is only open to AiM students who have completed the 6-day immersion, or 4-day FMM application courses pre-2020 (i.e. pre-COVID)
WHEN: Sept 9-11 2022
LOCATION: AiM colleague Anya Porter Yazawa's beautiful Recenter Space, Ossining NY
TUITION COST: $825 (USD)
Includes:
3 meals per day (local organic vegetarian fare)
7 hours class time per day
LODGING OPTIONS/FEES:
*Cost is the total for 2 nights, per person, in addition to tuition costs above. All accommodations entail sharing a bathroom with 1 or 2 other people.
**Additional night fee if you plan to stay over on Sunday evening
Tent camping (You bring all your own camping gear — tent, pad, sleeping bag. Towels provided.): $60

(1 reserved, 1 available)

Shared room (Bedding/towels provided): $130 (1 available)
Dorm style(Bedding/towels provided): $100

(3 reserved, 5 available)

Private room(Bedding/towels provided): $180

(1 reserved, 3 available)
ROUGH DAILY SCHEDULE:
Fri Sept 9:
3-5pm: Arrive to get settled in.
7pm: Dinner and hangout
8pm: Your questions, campfire
Sat Sept 10:
7am: Breakfast
8am- 12pm: Class time
12pm-1pm: Lunch
1pm-3:30pm: Class time
3:30pm- 5:30pm: Nature time
6:30pm-7:30pm: Dinner
7:30pm onward: Campfire/personal time
Sunday Sept 11:
7am: Breakfast
8am- 12pm: Class time
12pm-1pm: Lunch
1pm-4pm: Class time
4pm onward: Option to stay longer hang out at the retreat center, walk in nature
Monday Sept 12:
Optional 1:1 sessions with Margy or Monika, must be booked in advance, contact us to book
Transportation options: Getting Here…
Recommended to bring:
Hiking boots/shoes
If camping:

Tent/ground sheet
Sleeping bag/mattress

Rain gear, just in case
Toiletries
AiM wedges
Notebook, writing utensils
Layers! It may be hot or cold, dry or rainy. Sept is variable. Bring options.
Musical instrument (for campfire time)
To register send an email to margyverba@hotmail.com indicating your lodging preference.